1000R curvature

Quantum Matrix Technology

Sound Dome Technology

165Hz refresh rate
Top 3 features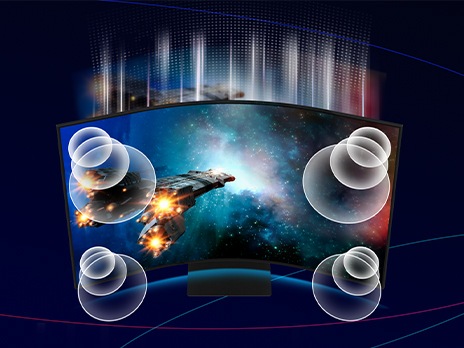 Personal Gaming Theater
See more on a 1m 38.8cm (55″), 1000R curved screen. Quantum Mini-LED achieves next-generation depth to deliver exceptional picture quality, enhanced by Sound Dome technology for immersive surround sound.
World class performance to win
One misstep can be the difference between victory and defeat. With a 165hz refresh rate, 1ms response time and FreeSync Premium Pro, prepare to win.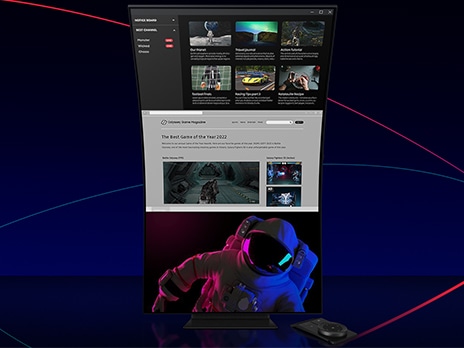 A new definition of optimization
Find the perfect position by rotating the screen to Cockpit Mode. You can even adjust screen size and ratio to enjoy multiple content sources at once with just one touch of Ark Dial.
Overwhelm your senses
1m 38.8cm (55″) large screen & 1000R curvature
Be immersed in lifelike images. The 1m 38.8cm (55″) screen delivers a picture that overwhelms your senses, creating an adrenaline-fueled experience superior to anything seen before. This is upgraded by 1000R curvature to wrap around your field of vision for maximum immersion.
* Optimal viewing distance is at over 80cm.
In-depth detail for a competitive edge
HDR 10+ gaming
See every detail in all its glory. From gloomy shadows to sun-scorched scenes, the 1,000,000:1 contrast ratio enables enhanced color expression and depth. Get a competitive edge with HDR 10+, which automatically adapts games in real-time to show you every detail that could lead to victory.
Incredible 4k gaming refresh rates
165Hz & 1ms
Conquer every enemy, even at extreme speed. 165Hz refresh rate eliminates lag for exhilarating gameplay with ultra-smooth action. Identify enemies with elite precision with a 1ms response time, precise mouse movements, and blur-free frames, with minimized ghosting.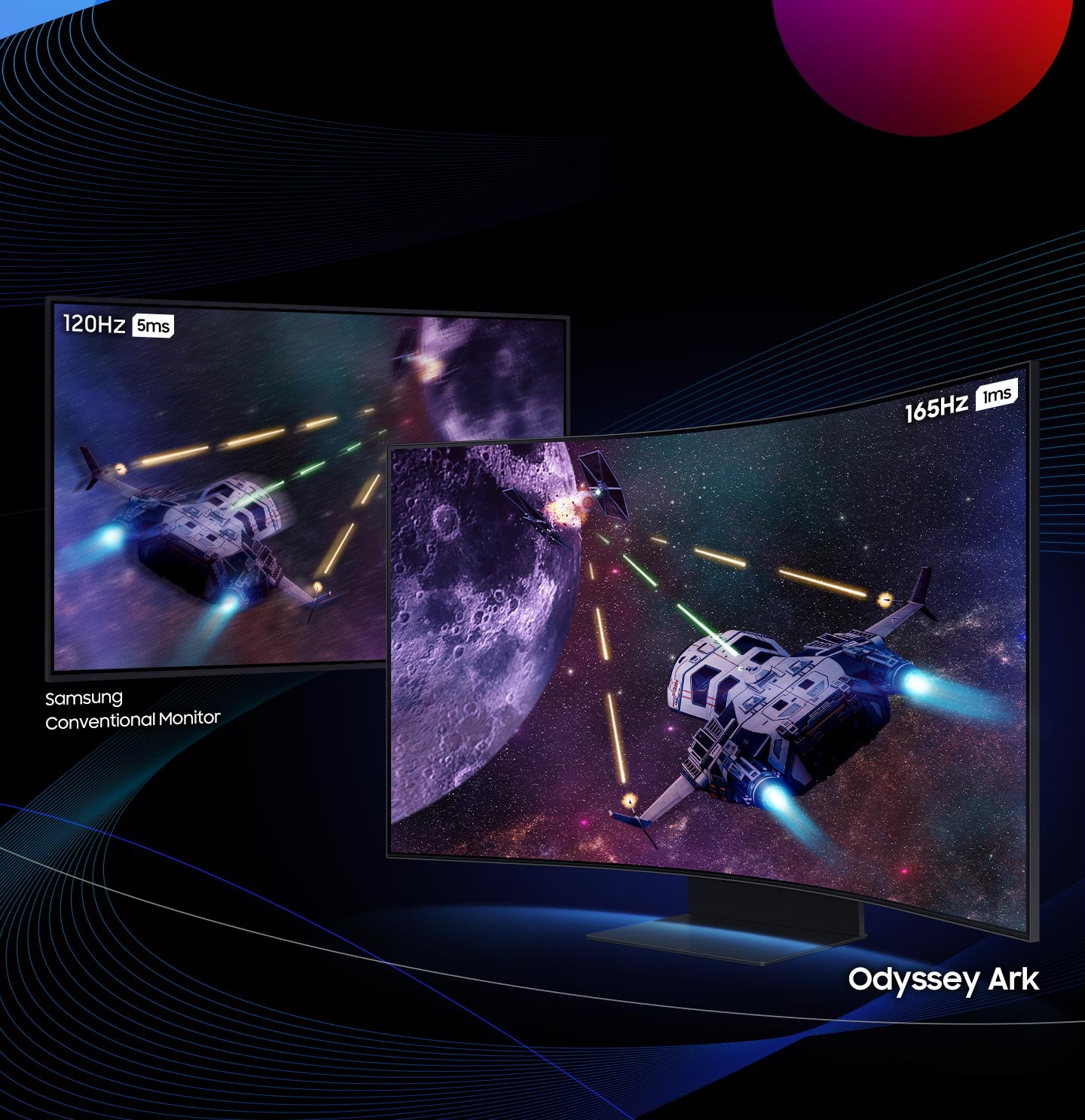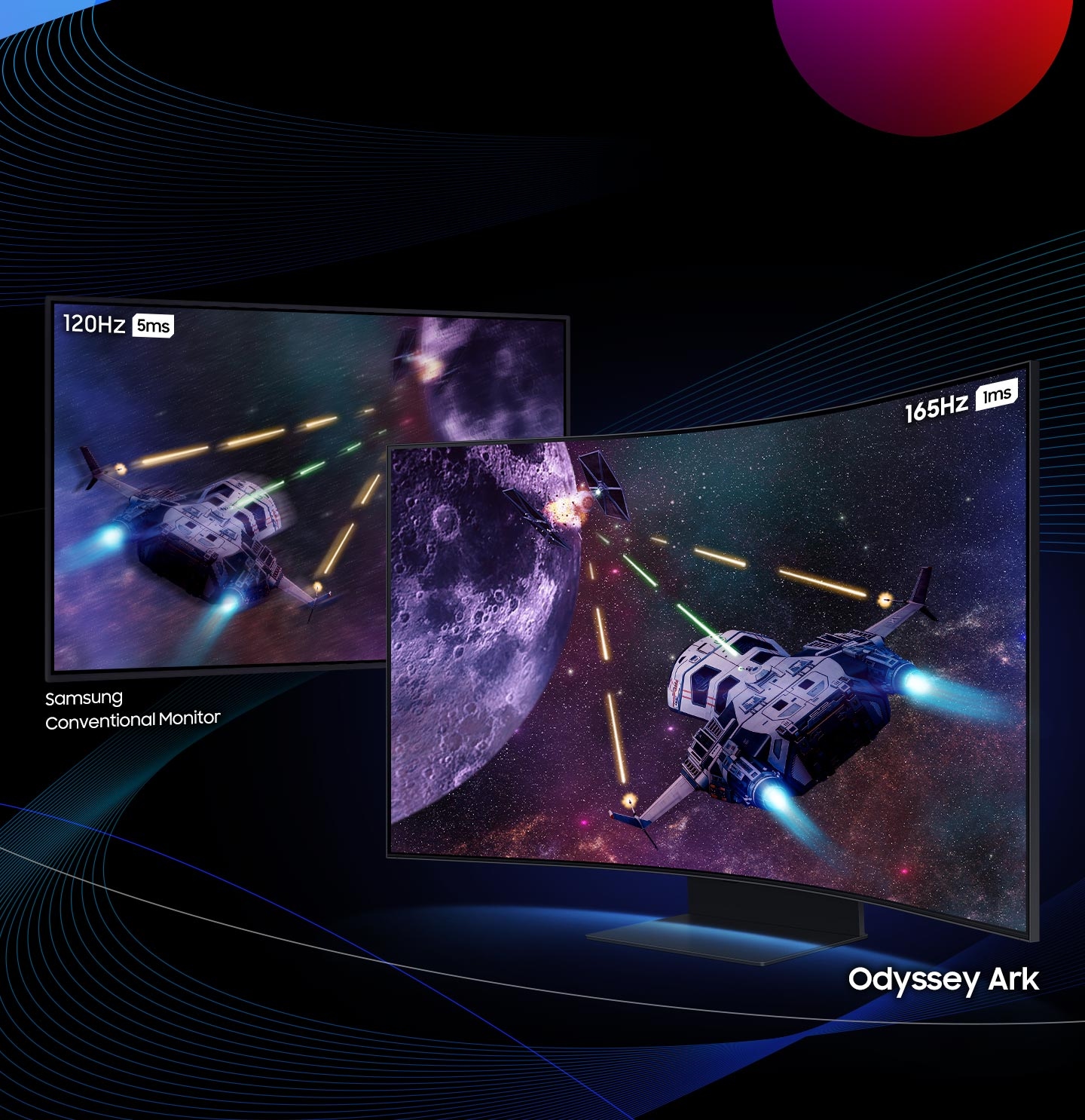 Focus without ever breaking flow
AMD FreeSync Premium Pro
Hyper action made seamless. Support of Variable refresh rate (VRR) with AMD FreeSync Premium Pro keeps the GPU and panel synced up to eliminate choppiness, screen-lag, and image tears. Fast-action and complex game scenes are stable and stutter-free for your competitive edge.
Where gaming comes together
Gaming Hub
The best of gaming all in one place. Gaming Hub allows instant access to top streaming services, your favorite consoles and PC. Smooth visuals and responsive gameplay are powered by Samsung's advanced game streaming technology without downloads or storage limits – just turn on Ark and play.
* Gaming Hub is available in limited countries, with app availability differing by country.** Accessing Gaming Hub is free of charge. Subscription may be required to access content offered by game-stream providers on the Gaming Hub platform.***A separate controller may be required depending on the specific game in Gaming Hub. ****PC source icon in Gaming Hub is only supported on Ark.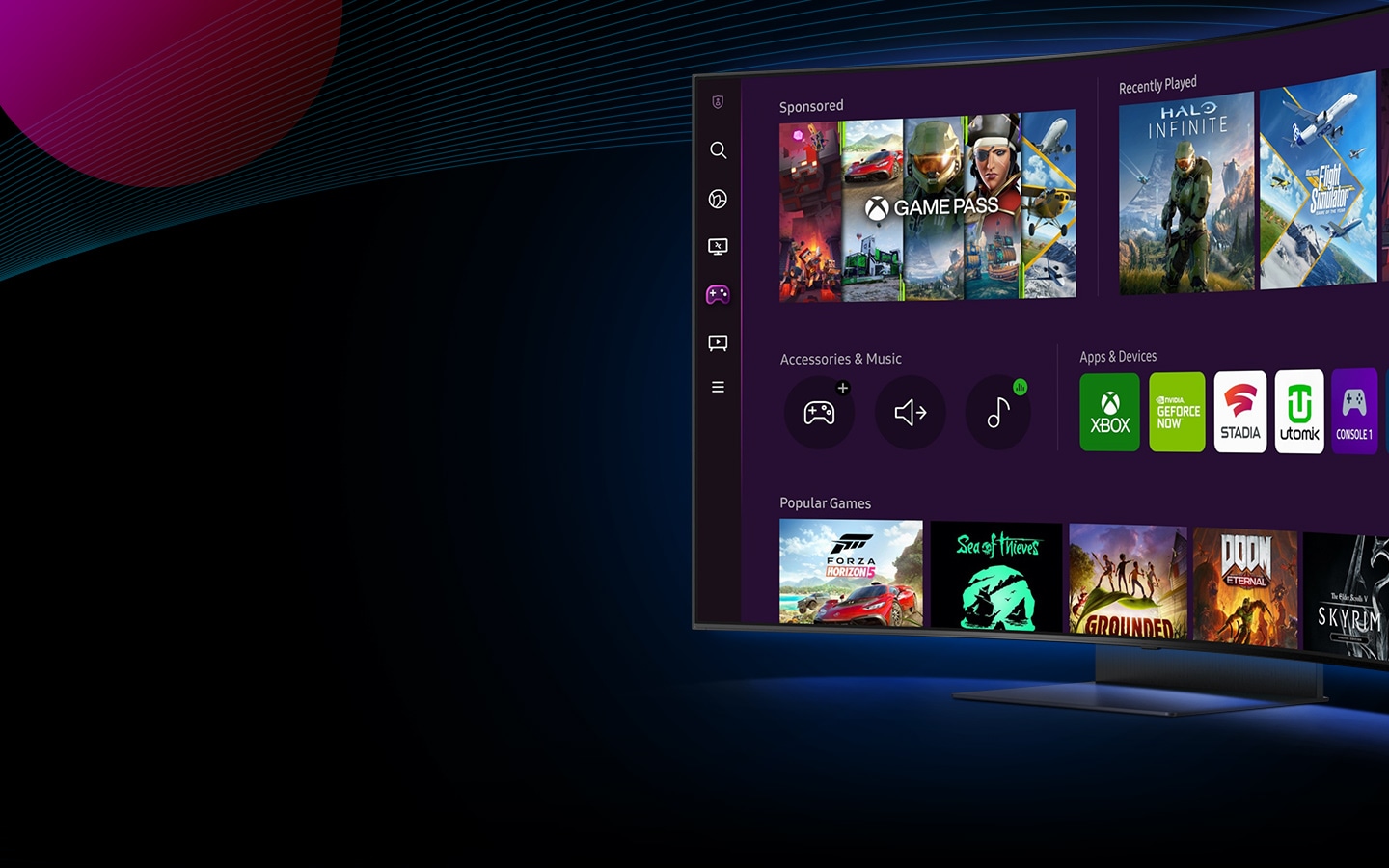 Quick, simple setup to seize the win
Game Bar
Check and control game settings in an instant. Now, you can easily view the status of important settings – FPS (Frames Per Second), HDR (High Dynamic Range) and VRR (Variable Refresh Rate). Optimize response time or screen ratio, as well as the game picture mode without having to leave your goal.
* The Game Bar's Screen Ratio can be changed only when the Ultra Wide resolution is supported in a game or PC.