Your favorite shows in your space
Smart TV Experience
Effortless entertainment with a simple Wi-Fi connection. Easily enjoy your favorite streaming apps in real 4K HDR, often difficult to experience on a PC environment. Samsung TV Plus offers free live content with no downloads or sign-ups, and personalized content recommendations from Universal Guide.
* App availability may vary by country and separate subscriptions may be required.* Requires internet connection and TV tuner is not included.* Samsung TV Plus and Universal Guide may not be available in some regions.* Remote control specifications may vary by country.
Say hey to your pals
SlimFit camera
Jump into any conversation. The SlimFit camera with tilt functionality allows you to create the perfect angle while using your favorite video call apps like Google Duo, which can be accessed directly through the monitor. Plus, the camera cover and option to fully detach always protect your privacy.
* Camera accessory should be purchased seperately
Just say what you want
Multiple Voice Assistants
With the Far Field Voice feature, activate your voice assistant just by speaking. Directly command the monitor – even at a distance – and tell it what you need. It's as simple as that. The Smart Monitor supports both Bixby and Amazon Alexa.
* Amazon, Alexa and all related marks are trademarks of Amazon.com, Inc. or its affiliates.* Bixby voice commands recognize English (US/UK/IN), French, Spanish, German, Italian, Portuguese(BR), Chinese (in China mainland only) and Korean.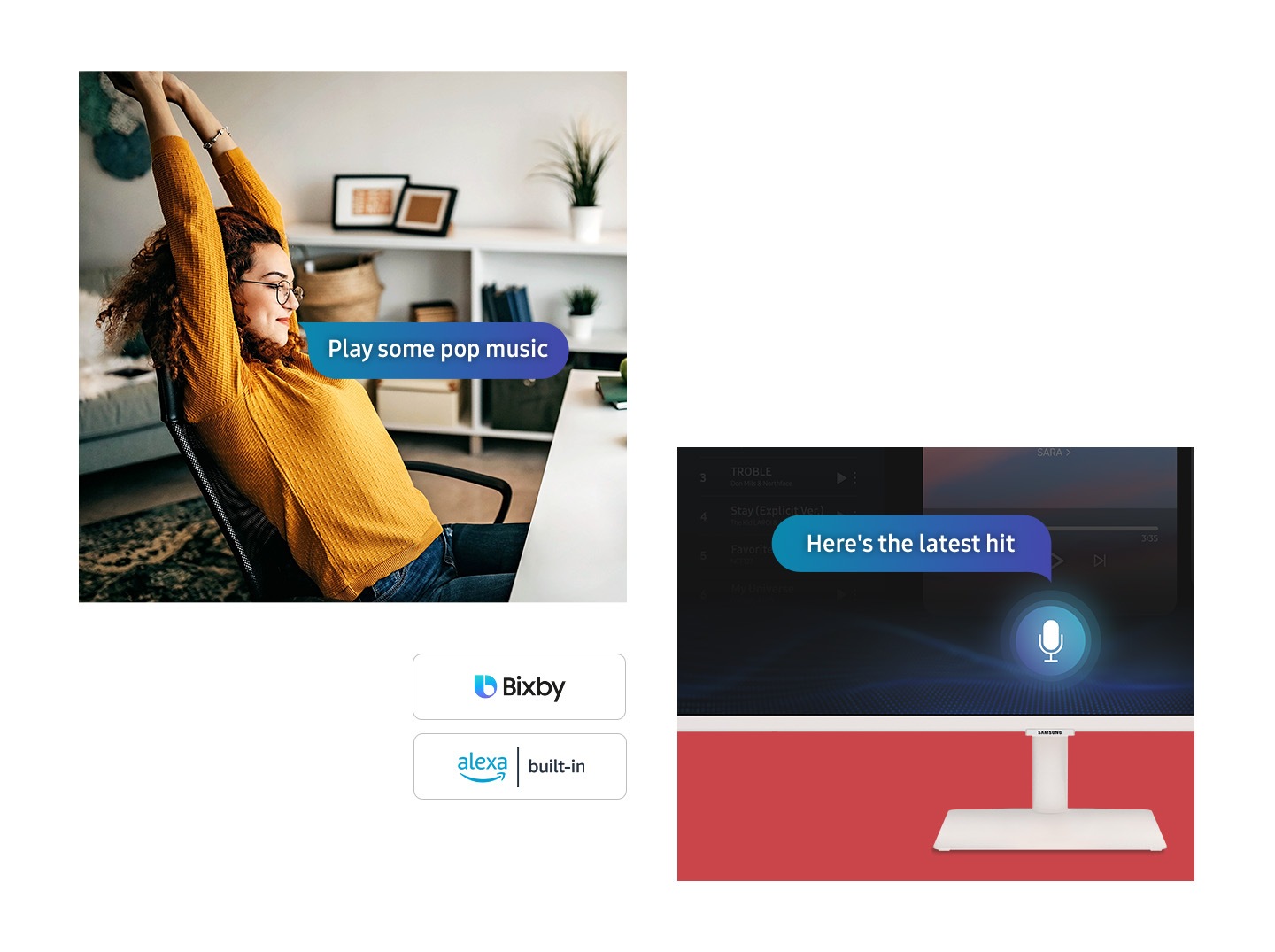 Optimal brightness, optimum enjoyment
Adaptive Picture
Sensational picture, day or night. Surrounding light is detected by a sensor to adjust brightness automatically with Adaptive Picture. Even in broad daylight, watch dark, gritty dramas without squinting and straining your eyes to see the picture.
Rich sound, real experiences
Adaptive Sound
With built-in speakers, the M7 provides rich and realistic sounds for a more immersive experience overall. Plus, the Adaptive Sound feature adjusts sound based on a range of content situations, from speech to music to ambient noise, delivering more refined and enjoyable sounds for every listener.
Connect with convenience
USB type-C
The USB type-C port enables you to power up, transmit data, and even send display signals between devices with just one connection. Its single connection architecture brings an enjoyable work environment that's both clutter-free and stress-free.
Reveal the game's hidden sides
Ultrawide Game View
Keep your eye on the win. Adjust your screen to 21:9 to discover hidden areas in game scenes with Ultrawide Game View. Now when you play soccer games, see more of the pitch right up to the goalposts. And in driving games, get a natural and encompassing view of the road ahead.
* Availability limited to source devices which support 21:9 output.* May function differently depending on game or content being viewed.
Plug and see
Auto Source Switch +
No more switching around. With Automatic Source Switch Plus, your monitor detects newly connected devices as soon they're plugged in, and displays the correct signal. No more searching for the right input on the menu.
* Comparison with existing Samsung product.