Vivid Clarity in Ambient Lighting Environment
MH733's 4000 lumen high brightness allows presenters and participants to conduct presentations in comfortably lit medium-sized conference rooms, with uncompromised debate, collaboration, note-taking and interaction to achieve the most productive meetings. The high luminance provides professional picture quality for corporate users to satisfy stringent corporate standards.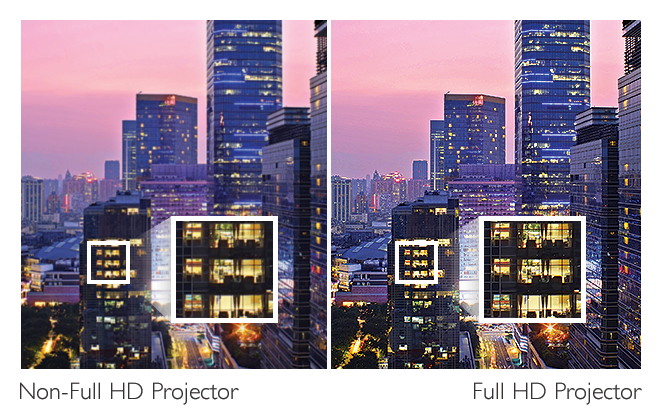 Full HD Resolution for Crisp Image Clarity and Increased Content Density
With Full HD (1920 x 1080) native resolution in widescreen 16:9 aspect ratio, MH733 offers subtle details, ultra-sharp readability and highly enhanced display capacity for professional presentations.
Convenient and Diversified Presentation Versatility
USB Reader for PC-Less Presentations
Supporting a wide range of files including JPEG, PDF, Microsoft Word, Excel and PowerPoint files, MH733's USB Type-A port lets presenters easily project images or documents directly without the need for a laptop.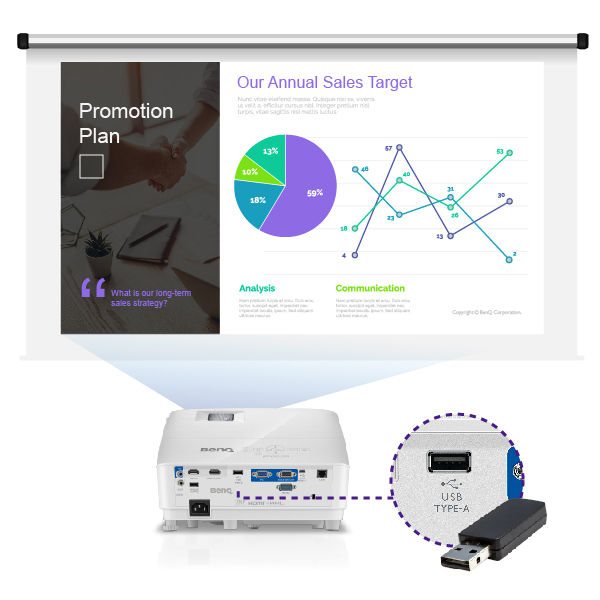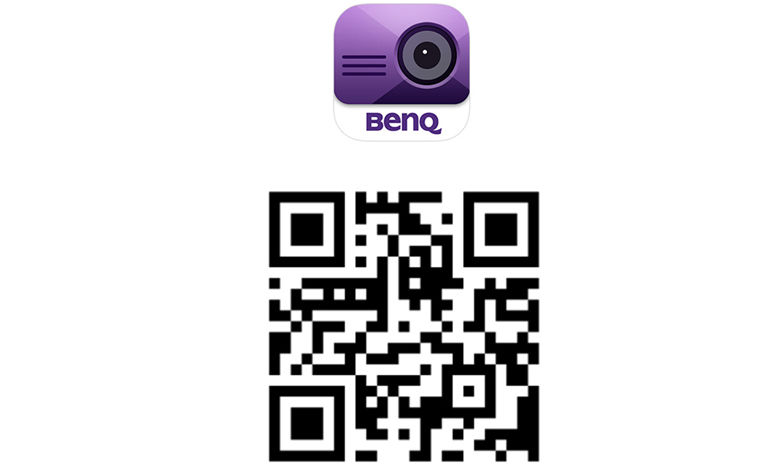 Scan to download QCast App for iOS or Android
Effortless Network Presentation through QCast App
When MH733 is installed in a LAN and paired up with the QCast App, it becomes simple to present from PC or smart devices. QCast App helps users to directly project photos and a wide range of files including PowerPoint, Word, Excel and PDF files from your PCs or smart devices onto the big screen. Additionally, QCast App comes with other beneficial functions to enhance the overall efficiency and convenience of corporate meetings.
Easy Wireless Presentations
Equipped for WiFi readiness, MH733 enables convenient wireless projection via QCast App from PC or mobile devices by connecting a USB wireless dongle* to a specific port at the back of the projector named "WIRELESS DONGLE".
*USB wireless dongle WDRT8192 is an optional accessory

Present Wirelessly From Any PC or Smart Devices
Offering users multiple wireless projection options, QCast App can mirror PC content or extend its display to share information while keeping other data private. MH733 lets smart devices display static photos or documents including PowerPoint, Word, Excel and PDF files wirelessly. For Android 5.0 devices and above, users can mirror the smart devices contents onto the big screen.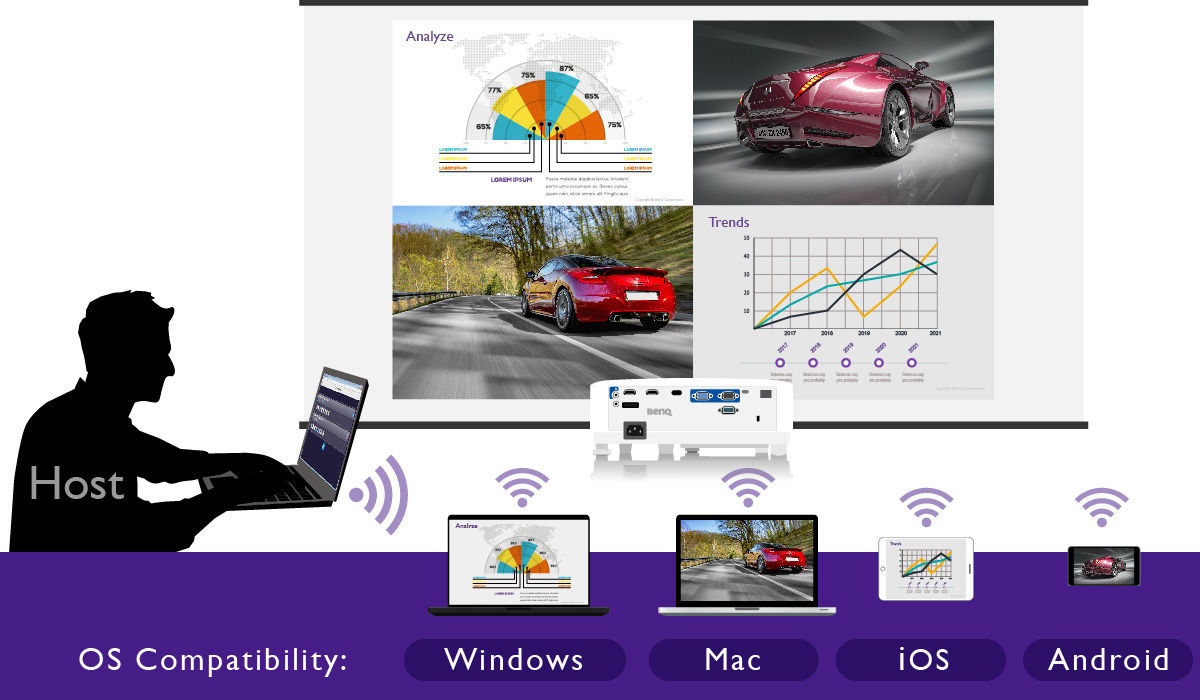 Split-Screen Projection and Effective Meeting Control
MH733 allows projection from up to four different PC or smart devices via QCast App, enabling more ideas to be shared effectively. QCast App has an extremely user-friendly interface for meeting host to control wireless presentation access from other presenters and assigning display positions, ensuring smooth and effective meetings.
Live Internet Connectivity via QCast App
Unlike conventional networked projectors that cannot easily access the Web during wireless presentations, QCast App offers MH733 users flexible Internet connectivity through external internet configuration. Presenters can browse the internet whenever needed to search and share information.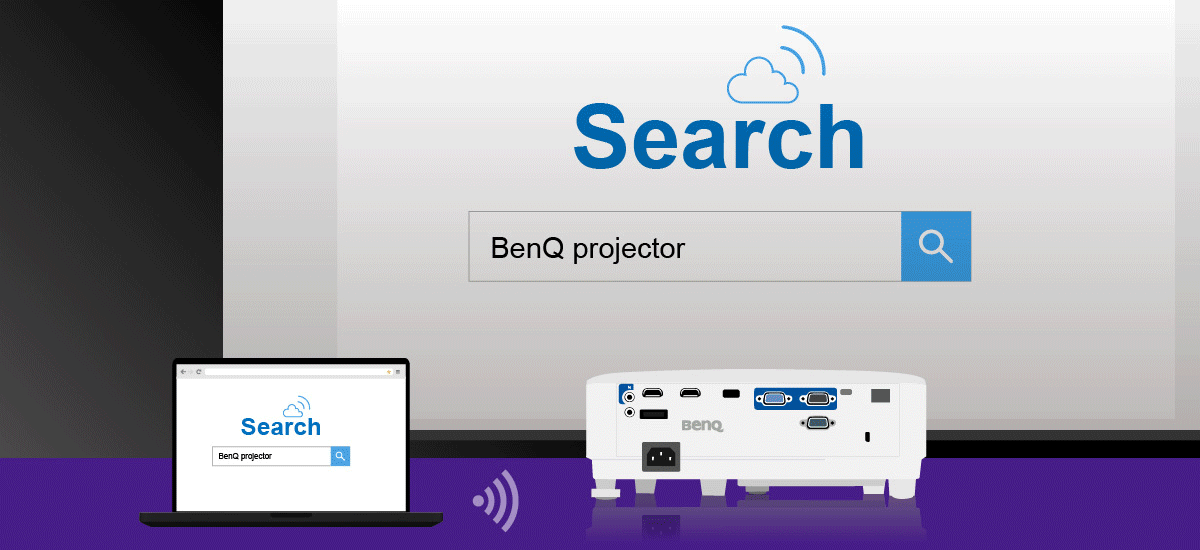 Handy Remote Control Function
QCast App also offers convenient remote control functionality with easy-to-read buttons to control the projector when it is ceiling mounted or when the remote control is not available.
Powerful Flexibility for Efficient Setup
Advanced Image Calibration for Ideal Projection Alignment
MH733 is equipped a two-dimensional keystone correction range of ±30° on horizontal and ±20° on vertical axes to counteract the trapezoid effect when the projector must be installed off-center. Installers can use Corner Fit control to adjust each corner independently for perfectly aligned image geometry.

Comprehensive LAN Control Capability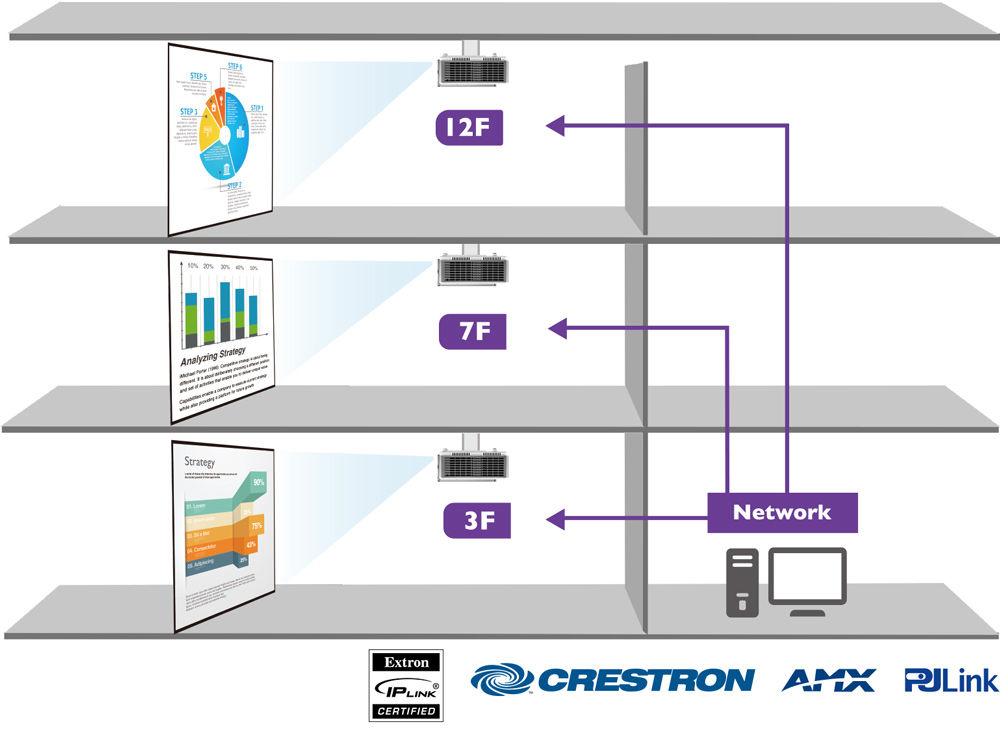 Control System Compatibility
MH733 is widely compatible with leading projector control systems including Crestron, AMX, PJ Link and Extron IP Link for network control via LAN, making it simple to integrate into corporate network infrastructures. MH733 also supports RS-232 for reliable long-distance Installation up to 15 meters, when there is no LAN infrastructure.
* BenQ has been officially certified by Extron in 2017. Extron: Developed by Extron, IP Link driver allows device monitoring, control, and support over LAN when MediaLink controller, IP Link Ethernet control interface, or other IP Link-enabled device is installed. For more information,please visit www.extron.com/downloads.
Centralized Control of Multiple Projectors with BenQ MDA Software
BenQ Multiple Display Administrator (MDA) software provides powerful centralized multiple-projector management including automated opening and closing procedures for public spaces, remotely controlled power on and off, and scheduling for institutions and corporations.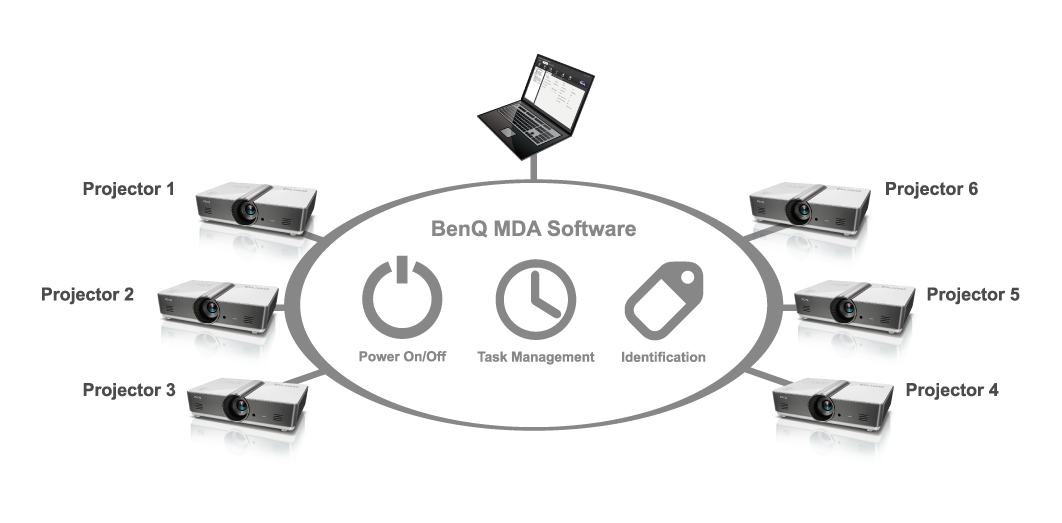 1 to 1 Direct Projector Control via Web Browser
MH733 comes with any easy setting that allows IT managers to conveniently control any specific projector through a web browser remotely without having to physically visiting the meeting room, guaranteeing to save time and effort.
Enduring Efficiency and Simplified Corporate Maintenance
Upper Lamp Door for Simplified Lamp Maintenance
A quick-release lamp door provides IT managers convenient access for efficient lamp maintenance without removing the projector from the ceiling mount.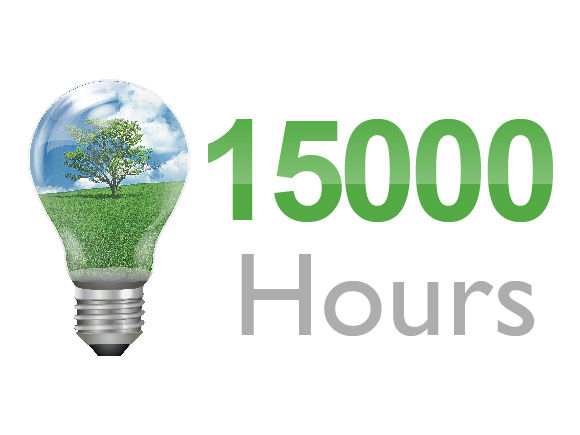 LampSave Mode
Fewer lamp replacements and maintenance result in overall lower cost of ownership. LampSave Mode adjusts lamp power dynamically according to the displayed content to extend projector lamp life up to 50% compared to normal mode.