Super-fast AC Wi-Fi with 256QAM™ Wi-Fi acceleration
Powered by 5th generation Wi-Fi (5G Wi-Fi), the 802.11ac chipset gives the RT-AC53 faster wireless speeds than N technology. At 2.4 GHz, it reaches 300 Mbps, while on the 5GHz band it blazes to 433 Mbps. The upgraded bandwidth has the higher capacity you need to increase Wi-Fi enjoyment at home. With notebooks, desktops, pads, and smartphones now all Wi-Fi-reliant, it's time to upgrade to the next generation to expand you connectivity now and in the future.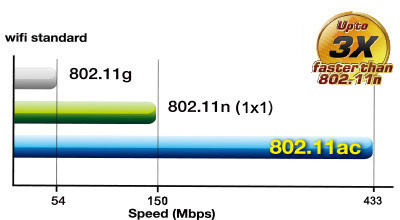 Dual-Band Connectivity for Lag-Free Entertainment
Delivering both 2.4 GHz and 5 GHz concurrent bands up to 300Mbps and 433Mbps respectively, the RT-AC53 has a total speed of up to 733Mbps connectivity to provide speed with stability. Perform basic internet tasks like Web browsing and file downloading under the 2.4 GHz band, while also simultaneously streaming 3D HD content and other demanding applications smoothly on the 5 GHz band.


ASUS Router App
Control your network anywhere
In your increasingly mobile-enabled life, having control over your network via an app is more important than ever. The new ASUS Router App is built from the ground-up to be both intuitive and robust, allowing you to setup your router, manage network traffic, diagnose connection issues and even update firmware, all without needing to boot up a PC.
Optimized for Fiber-optic internet
10X faster Gigabit WAN lets you fully enjoy the internet speed subscribed from fiber internet service provider.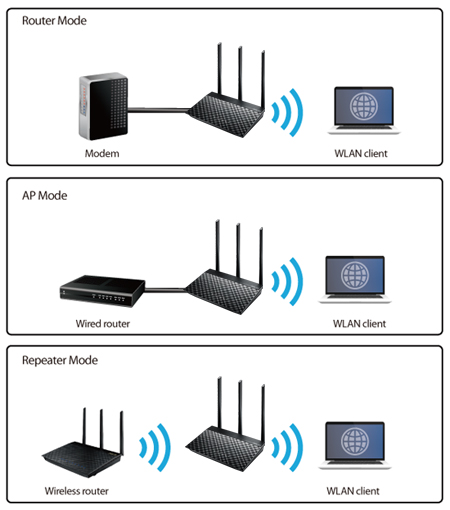 EZ Switch (Software)
Flexible 3-in-1 router/AP/Repeater mode
Instantly select router, access point and repeater modes with extra-quick settings in the user-friendly interface. No delays and no hassles – whatever your situation, take your pick and get connected.
Keep Up to Date!
Remember to always keep your device's firmware up to date so you can benefit from the very latest service and security enhancements — and get exciting new features!